1:1 Executive, Group & Team Coaching
Margaret holds a Masters of Applied Science in Coaching Psychology from the University of Sydney, Australia & certification from the Institute of Executive Coaching and Leadership (IECL), Sydney. She has been working as an executive coaching since 2008.
Individual Executive Coaching

Margaret works with senior executives & managers. She uses a broad range of coaching approaches, drawing from expert knowledge of:
Coaching Psychology
Leadership and management research
Positive Psychology and Positive Organisational Scholarship
Adult Education & Development
Health Sciences & Neurobiology
Margaret aims to build a safe and respectful relationship with her clients built on complete confidentiality. Her clients appreciate her professionalism, exceptional listening skills, intense curiosity, well-honed analytical and diagnostic skills and her incisive questions to help them develop greater insight and awareness. She is able to skilfully and respectfully challenge her clients when required, helping them in a learning process to make more self-aware choices and actions.
Marg understands the critical importance of personal responsibility to the success of the coaching engagement. She supports her clients to understand and enhance their capabilities and core values, to identify their barriers to change, to increase their motivation and self-regularity strength, to clarify their goals and action steps, to practice news behaviours  to improve their workplace performance and wellbeing.
Areas of specialization
Developing management and leadership capabilities
Improving workplace performance and engagement
Supporting quick and effective transitions into new roles
Discerning career direction and then career planning and job crafting
Supporting positive workplace behaviour change
Increasing self-regulation, motivation, behaviour change and goal attainment
Maintaining high performance through challenging life events such as overseas postings and promotions.
Group Coaching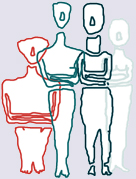 Margaret typically provides group coaching as part of  learning and development programs. These sessions supplement workshops and often have a focus on implementing new knowledge, skills or behaviours in the workplace. In group coaching, Marg supports participants to call upon the coaching questions and resources of the group to help them achieve their goals. She may also use a group coaching approach to explore issues common to members of a workplace, supporting participants to tailor their own goals and action steps to address these issues.
Areas of specialization
Developing leadership & management capabilities
Implementing workplace engagement strategies
Improving workplace resilience and well-being
Managing change
Interpersonal relationships
Team Coaching
In the team coaching process,Margaret's primary client is the 'whole' team – their purpose, performance and processes. Margaret works with project, management and leadership teams to help them to clarify their vision & mission, to increase their level of functioning and task focus, and to improve their internal and external relationships. She supports the team through a learning cycle of reflection, new thinking, planning & action – then back to reflection.
Areas of specialization
Developing top team leadership capability
Improving the performance of project and management teams
To learn more please contact us.